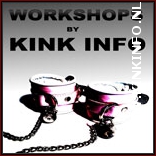 hosted by KINK INFO
Our BDSM workshop lounge is a relaxed little conference, an friendly afternoon with workshops about BDSM and Kink. You'll have the opportunity to ask personal questions to the instructors and there is ample possibillity to practice and learn.
The hall is open from 12:00 so you have the ability to mingle with each other and ask the instructors knowledge.
The start time of the first workshop is 1:00 p.m.
Location:
A9 Studio's
Westerwerf 1B
1911 JA Uitgeest
Time: 12:00 - 16:30
Entrance fee: € 20,- presale and € 25,- at the door